UC San Diego Division of Plastic Surgery Residency Program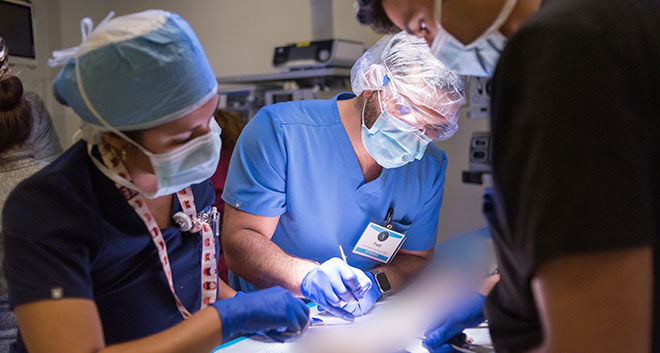 Message from the Chief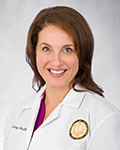 Welcome to the Division of Plastic Surgery!
If you are interested in reconstructive and plastic surgery we provide a six-year integrated plastic surgery training program coordinated with multiple surgical divisions and departments to create a comprehensive surgical training pathway for physicians seeking a career in plastic surgery. 
Our program highlights the diversity of plastic surgery with rotations in all surgical fields and multiple specialty fields. This extensive clinical experience is combined with a robust educational conference schedule, intern boot camps, training sessions, research, and visiting professor lectures.
At UC San Diego, we recognize the importance of a broad education achieved through multiple clinical environments.  UC San Diego's integrated plastic surgery program utilizes four distinct medical campuses including, Jacobs Medical Center, Hillcrest Medical Center, Rady Children's Hospital, and the Veteran Administration Hospital.  
Jacobs Medical Center (JMC) represents the latest in state-of-art surgical training facilities. Opened in 2016, JMC was designed as a center for advanced surgical care, comprehensive cancer treatment and high-risk obstetrics and neonatology.  The JMC campus includes the Thornton Hospital, Koman Family Outpatient Pavilion, Shiley Eye Center and Moores Cancer Center. At JMC, our residents participate in complex head and neck reconstruction, surgical oncology reconstruction, breast reconstruction, elective hand surgery, oculoplastic surgery, and the full complement of aesthetic surgery.
The UCSD Medical Center is located in the heart of San Diego (Hillcrest), and houses one of only two Level 1 Trauma Centers in the region, as well as the area's only regional burn center and a hyperbaric and complex wound treatment center. UCSD Medical Center at Hillcrest is a large volume center for the treatment of complex trauma, upper or lower extremity reconstruction, burn reconstruction, laser surgery, facial reanimation, and treatment of vascular anomalies.
Rady Children's Hospital (RCHSD) is the largest, free standing pediatric hospital in California and the only Level 1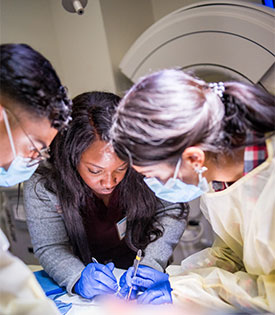 Pediatric Trauma Center in the San Diego area. RCHSD is home for UC San Diego's craniofacial care center, vascular anomalies clinics and the Fresh Start International Surgical Care Program. RCHSD is internationally recognized for the treatment of complex craniofacial disorders and is ranked nationally as one of the top pediatric hospitals across multiple specialties.  RCHSD affords residents the opportunity to gain skills in cleft lip and palate repair, craniosynostosis treatment, vascular lesions management, and multidisciplinary pediatric sleep apnea treatment and the full spectrum of acute and elective pediatric reconstructive surgery.
The Veteran's Administration Hospital (VA) provides medical services to a large population of San Diego veterans, active military, and their families. The San Diego VA hospital has continued renovations for over five years providing six operating rooms and one robotic suite as part of their surgical expansion. The VA hospital affords residents unique reconstructive opportunities including microvascular surgical treatment, trauma reconstruction, oncology reconstruction, transgender surgery and advanced wound care.
The role of the plastic surgeon in the 21st century continues to expand as new treatments and procedures are developed to improve quality of life for patients.  We strive to advance the treatment of all areas in plastic surgery through the comprehensive education of our residents. Our program is designed to provide residents with the relevant training and ethical guidance to meet the needs of plastic surgery patients for generations to come.
Applicants interested in becoming part of our residency program are encouraged to apply through the National Residency Match Program.
Dr. Amanda Gosman

Professor and Chief of Plastic Surgery, UC San Diego
Director of Craniofacial and Pediatric Plastic Surgery, UC San Diego
Craniofacial Fellowship Director, UC San Diego
Program Director Plastic Surgery Residency, UC San Diego
Chief of Plastic Surgery, Rady Children's Hospital San Diego